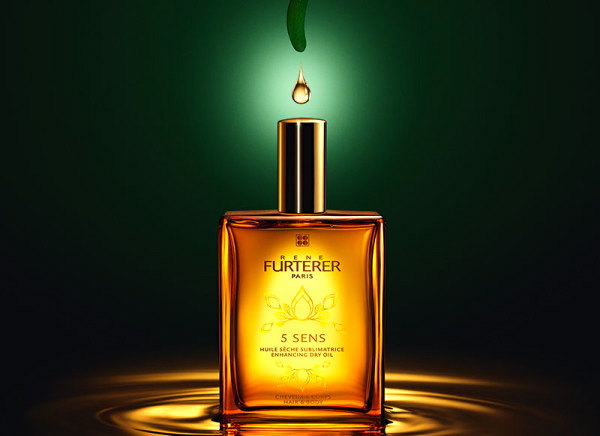 Do you have dry skin, dry hair?  Want something nourishing for both that's not sticky or greasy?
This is THE item we have been waiting for!!
Our Rene Furterer exclusive "5 SENS"… A new Dry Oil containing 5 precious oils, has a captivating fragrance, nourishes, protects and hydrates both HAIR & BODY. And it's SILICONE-FREE.
This 100ml glass bottle looking like a luxurious eau de toilette, has a lovely spray nozzle that will actually "mist" out the oil. The fine particles appear to gently land on your skin and hair as though to envelop you.
Being a skeptic, I have been testing it for several days. The verdict: I am now hooked!. One of the things I love about this product is that the moment you apply, your skin feels like satin but well hydrated as the oils get absorbed instantly. Take a bath or shower a few hours later and you won't have any oily film.
Just spray directly, or on your hands first, and apply all over your hair and body.
This beautiful concoction consists of 5 precious oils of Carthame (Safflower), Jojoba, Avocado, Sweet Almond and Castor. Notes of Bergamot, Jasmine, Lilac, spices and White Cedar are truly addictive…
Try it this fall and you will fall in love with it…