OMG…the heat and humidity were so bad they were making my entire being feel like that  surrealistic melting clock in Dali's painting.
From July 12~15,  I was in Montreal for product knowledge training at the Rene Furterer Institute. Meanwhile, I tried to absorb as many cool exhibitions as possible while revisiting my exciting and highly inspiring childhood city.
Please allow me to share with you a very weird exhibition I saw at the Montreal Museum of Contemporary Art. Currently it is showcasing Montreal's native artist — David Altmejd's — large scale sculptures. Using materials like plaster, mirrors, synthetic hair, polystyrene, jewelry, glitter, wires and chain, Altmejd transports you to a bizarre world of "decay and regeneration".
His key figure appears to be the enigmatic 'werewolf' symbolizing 'constant transformations'.
His sculptures which range from crystallized heads, decaying faces accessorized with synthetic hair and jewelry, broken mirrors strategically placed in the room or within the work to create a 'trompe-l'oeil' and zebras flying through intricate layers of fine filaments and suspended coconuts (yes, coconuts).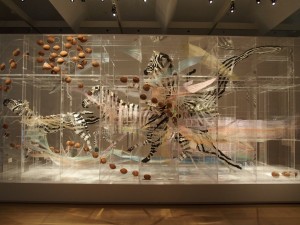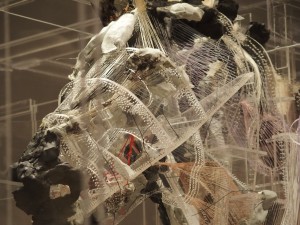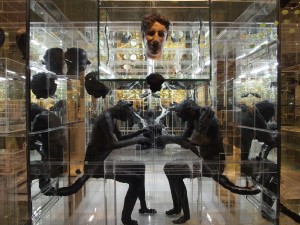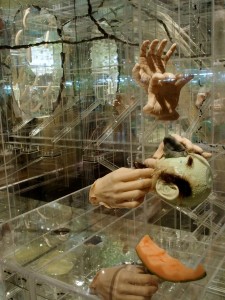 Definitely intriguing and inspiring despite some visual grotesqueness. One of the commentaries in the exhibition stated that Altmejd's work reflects "the meanderings of a lucid dream". I feel that those words really sum up this exhibition. The space which housed his amazing work, the whole layout and the lighting all succeeded in transporting me into a world filled with enigma. Almost like entering one's subconscious.