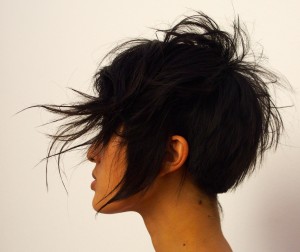 So nice and warm here! What's going on?! A warm breeze caressed us as we made our way to the Sassoon Academy to face our second day of Creative Cutting. Today was comprised of work sessions from morning to afternoon. Pretty intense, but super exciting!!
What I learned today was how to create "hidden" elements of edginess within a classic haircut and working with various dynamics of "the fringe" (you may call it 'bang').
My first lovely model was Tracy, a medical esthetician who was wanting an illusion of density within a classic A-line shape: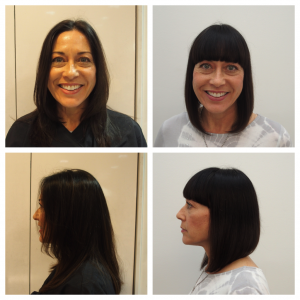 What you don't see in the after pictures above is that we had gone in with a tight undercut, just to create "more volume" around the back of the head! Here is the proof below during the cutting process:
On my next model, Cally — a truly relaxed Yoga Instructor– we worked with a "Visor" fringe. This is the sort of large fringe which is long and extends right past the back of the ears. I also learned how to create airiness and movement throughout the head to utilize the curls to its maximum :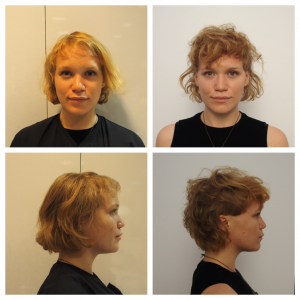 Yoko certainly created a playful profile on her gorgeous model: Love the movement!