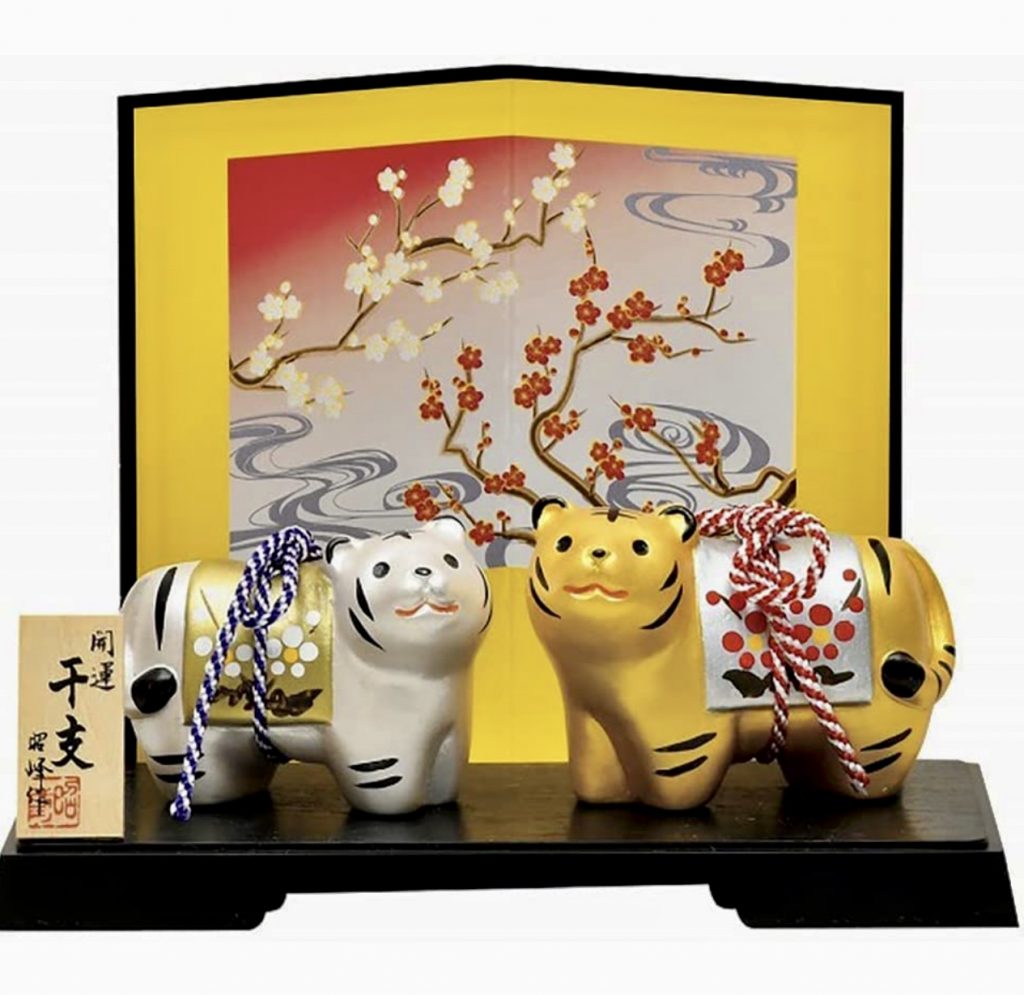 Happy New Year!
2022 will be the Year of the fierce Tiger, known in Japanese as "Ehto" (the 12 year cycle of zodiacal animals).  In Japanese culture, it is always a big tradition to celebrate the New Year by sending out New Year greetings featuring the animal pertaining to the coming year.  (The cute ornament you see above will be displayed in our salon to replace our ox from last year;))
I would like to take this opportunity on behalf of Yoko's Haute Coiffure & b-yu Head Spa to thank you from the bottom of our heart for your support, patience and cooperation throughout the last year.  2021 being the year of the mighty Ox, we have ploughed through strange, unknown territory.  Let us welcome 2022 with a Tiger's strength, courage and will power.
Our salon will be reopening on January 11. However, we are currently booking into mid-February and March, so if you are considering booking an appointment, please do so at your earliest convenience.  Please keep in mind that Saturdays book up approx. 2 months in advance.
As of March 1, we will be accepting "Double Head Spa" bookings (ie. 2 simultaneous Head Spas).  Double simultaneous Follow-up Scalp Treatments may be booked anytime depending on availability.
For the month of January, we will have 30~40% off the price of select hair care products.  In-salon only, while supplies last.
To reduce waste and for better value, we are now selling (both in-salon and online) 600ml professional sizes of our most popular shampoos.
We have added a new service to our menu: "The Yoko's Haute Coiffure Experience".  10% off initial new booking. This will be a 3.5hrs service where the guest enjoys our relaxing 90min Signature Japanese Head Spa tailored to their scalp and hair condition based on their scalp scope analysis, followed by a personalized Shaping based on one's head shape, bone structure, face shape, hair texture, lifestyle and fashion style.
Safety Protocols: During this time, as before, we ask all guests to wear a mask and to disinfect their hands upon entering our salon.  We ask that you keep your mask on throughout the duration of your service, other than when we serve our hot teas and snacks.  We remain vigilant in keeping our salon space clean, furnitures/stations disinfected, air ventilated and purified after every guest.
We look forward to seeing you and taking care of you again!