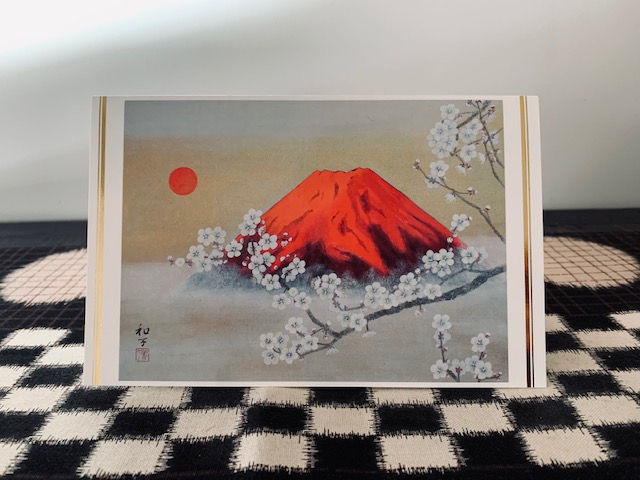 Happy New Year 2021!!
I don't know about you, but I think the dumbest purchase I ever made last year was a 2020 planner.  Also, never…in a million years…could I have imagined I would go up to a bank teller with a mask on and ask for money!.
The picture above is a New Year's Greeting card sent to me by my dear uncle in Japan.  I love the accentuating hues of reds and oranges reflected by the sun on Mt. Fuji, soaring up from the clouds and framed by delicate cherry blossoms.  2020 has been an eventful and challenging year globally.  But there is always light at the end of the tunnel.  This picture gives me hope.
At Yoko's Haute Coiffure & b-yu Head Spa, we're committed to continue our training and investing in ourselves to keep us and clients excited and inspired.  We will continue to polish our skills and increase our knowledge to exceed our standard and client service.  A healthy scalp and hair with the 'right' shape (ie. cut) on one's head is key to feeling beautiful and youthful! 🙂
If you have not yet done so, please check our latest online-shop at
https://b-yu.com/shop/
.  We have
added professional sizes
 to both our shampoos and conditioners. They will be more economical and eco-friendly!
Le'ts all move forward in 2021 with the "Patience" and "Determination" in the Year of the Ox!