I have always wanted to cut Mona Lisa's hair!!  If she changed the shape of her cut and styled it properly, she would look as though she had a full head of hair!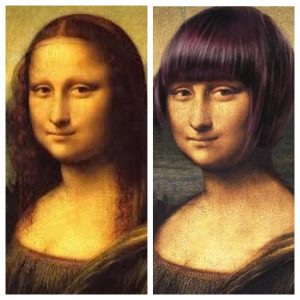 At Yoko's, we have many clients who have fine thinning hair.  Evidently they are concerned and want to make their hair look denser and fuller. Please allow us to share some some advice!:
CUT!: Clients who have thinning hair often want to hang on to as much length as possible; but this will actually make it look finer.  Better to to go shorter with a strong perimeter, perhaps a fringe and graduate the hair so that it builds up volume.  Make sure to put in a GOOD SHAPE!
HEAD SPA: Take care of your scalp!!  We cannot emphasize enough how crucial it is to incorporate a 'Head Spa' service in your regular beauty regime.  This will unclog your pores, stimulate micro-circulation in the scalp (and all throughout the body) and bring nutrients to the base of the follicle.  Our Signature b-yu Head Spa (a 70 min pampering service from head to toe) will do wonders to your hair loss and overall wellbeing. When the pores get clogged, they suffocate and fall out, so it is important that you regularly massage and deep cleanse the scalp. We strongly recommend this service once a month for anti-aging benefits.
COLOUR: Depending on the client's complexion and preference, I like to choose a color that is slightly richer and darker (whether it be a light brown or dark blonde).  Never really a very light blonde, especially if you are more mature.  Darker will give you a visual illusion of thickness.  Colour will also work to expand the hair cuticle and will add thickness and body.
STYLE: We strongly suggest using our sulfate-free paraben-free Anti-Gravity Lotion,  Plumping Body Mass or Rene Furterer's Volumea Mousse.  The Plumping shampoo/rinse as well as the Tonucia shampoo/mask  are excellent hair care for thickening hair.  After your blow dry, you can also zig-zag your part for greater volume.