For the sake of our health and beauty, I strongly believe that we all need some form of "escape" from our daily "realities".
On the last weekend prior to closing, I went to check out Henry and Rose Pearlman's collection of European Masterpieces at VAG. Wonderful exhibition which I hope you have not missed!
Henry Pearlman was a Brooklyn-born self-made business man who began his career in the cork insulation business. At age 24, he created his own company and became a major player in marine refrigeration. At mid-life he realized his big passion for collecting masterpieces from the impressionist and post-impressionist eras: 33 works by Paul Cezanne and more than 40 by Van Gogh, Modigliani, Chaim Soutine, Gauguin, Manet and Toulouse-Lautre and a dozen other European modernists.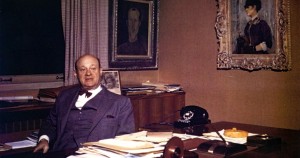 What really surprised me at this exhibition was the discovery of Cezanne's 'watercolour' paintings! For the longest time, I thought he only worked with oil! I found his watercolour techniques extremely unique from any others I have seen before. In lieu of long broad brush strokes, his colours almost looked like translucent patches of stained glass strategically placed on the canvas creating a sense of dimension as he made use of the white space on the canvas.
Personally, I much preferred his oil paintings as it was visually more rich and interesting. The intermixing of his limited colour palette drew me more into the canvas. For instance, check out the paintings of "Mont Sainte-Victoire". The two pictures were both drawn from the same location; but one using watercolour, the other, oil.
There were a few artists which I have discovered as a result of Pearlman's collections: Chaim Soutine's work appeared to be Pearlman's first avant-garde art he purchased at an auction. As you may see in the below painting entitled "View of Ceret", Soutine tended to paint towns and land in a dramatically contorted way: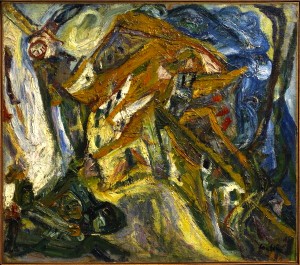 This is an excerpt of why he loved this painting so much: "The painting was hung over the mantelpiece, some thirty feet from the entrance hall, and when I came home in the evenings and saw it I would get a lift, similar to the experience of listening to a symphony orchestration of a piece well known and liked. This first pleasant experience with a modern painting started me on a road of adventure that has been both exhilarating and satisfying. I haven't spent a boring evening since that first purchase."
Another artist whom I have now become partial to thanks to Pearlman, is Henri Le Sidaner. His paintings are of towns and buildings and are drawn without a soul in sight. characteristically soft, blurry and romantic with occasional peek-a-boo of bright lights glowing from a window. Initially looking at his painting up close, it took me a while to get used to his "blurry" work because I felt I needed to 'readjust' my vision. It almost felt like my vision was out-of-focus! But the more I looked at it from various distances, I felt an overwhelming sense of intrigue, a sense of warmth and peacefulness within his serene views of towns and residential buildings. The painting I was attracted to the most was entitled "Clair de lune":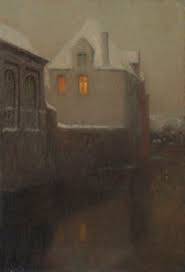 Within muted shades of greys, mauve and browns, shine two glowing lights from a building quietly standing alongside a still canal. This made me wonder, "what happy things are happening on the other side of that window?…" "Is there laughter, music playing?…what kind of music?…". Here are a few more examples of Sidaner's works:
Just as Henry Pearlman had reminisced over Soutine's "View of Ceret", I believe art should be something that "lifts you" just like listening to your favourite music whether it be Classical, Jazz, Rock etc.. I also believe if there is a particular art that intrigues you, you should let it "transport your mind and body" into a different "zone". Let it be an escape from your real world! I also feel that what you "don't see" in the painting is what makes us "curious" and allows our imaginations to go wild.
The psychology of "what we don't see"… This will be another topic I would like to discuss in my next blog. Stay tuned!