Hi everyone!
Our team at Yoko's Haute Coiffure & b-yu Head Spa attended The Rene Furterer Product Seminar on March 25, 2019.  The Canadian Headquarters team based out of Montreal came to Vancouver to spend an entire day introducing us to their latest innovative hair/scalp products.
There were 4 exciting innovative products that were introduced:
The first one was the Canadian introduction to VITALFAN — The 2 new dietary supplements which target specifically Progressive Hair Loss and Temporary Hair Loss.  Rene Furterer being the number one leaders in NATURAL HAIR LOSS TREATMENT, has been known for their external hair loss treatments such as TRIPHASIC (for progressive hair loss) and RF80 (for reactionary hair loss).  However, now these external treatment rituals may be enhanced by the complementary aspect of such internal supplements: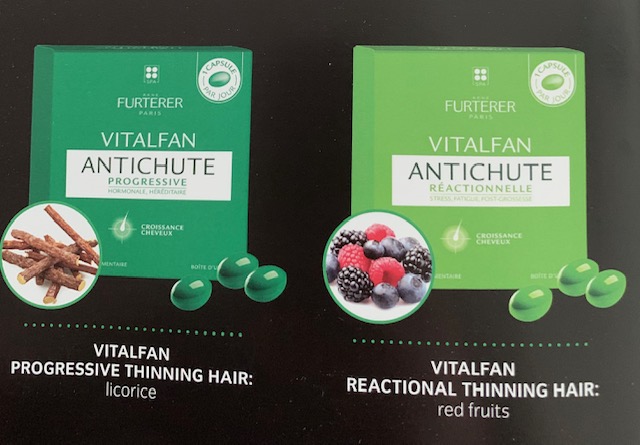 As our daily life become increasingly busy and our diets as well as our Earth become more deprived of essential micronutrients, the use of dietary supplements may support us in overcoming these imbalances.  The beauty of VITALFAN is that you take only 1 capusle a day with your meal!
How does VITALFAN FOR PROGRESSIVE HAIR LOSS work synergistically with TRIPHASIC?…
It also acts on the 3 causes of progressive hair loss:
Vascular: Citrus Aurantium (orange) stimulates microcirculation and maximizes the intake of energy and nutrients essential for optimal hair growth.  Vitamin B3 plays a leading role in red blood cell formation, blood circulation and oxygen transport to the cells.
Hormonal: We all know that excess sebum production is a major factor in hair loss.  Therefore, Curbicia (squash seed oil) regulates excess sebum secretion, while Vitamin B6 and Zinc are essential for healthy vigorous hair growth.
Tissular: Watercress is essential in keratin synthesis due to its high sulfur content. Meanwhile Biotin is important in energy production, carbohydrate metabolism, amino acids and in the synthesis of fatty acids.  Vitamins A and E are powerful antioxidants that protect the hair bulb.
How does VITALFAN FOR REACTIONARY HAIR LOSS work synergistically with RF 80?…
It also acts on the 2 levels of stress related hair loss:
Vascular:  The Cassis berries highly rich in antioxidants like anthocyanins stimulates microcirculation and maximizes energy intake and nutrients essential for optimal hair growth.
Nutritional:  Vitamin E, Selenium, Vitamin B8, Amino Acids mainly Cystein, Borage oil, Magnesium and Zinc all essential for the proper development of hair bulb.
The remaining 3 new innovations were all from the newly revamped OKARA COLOUR LINE: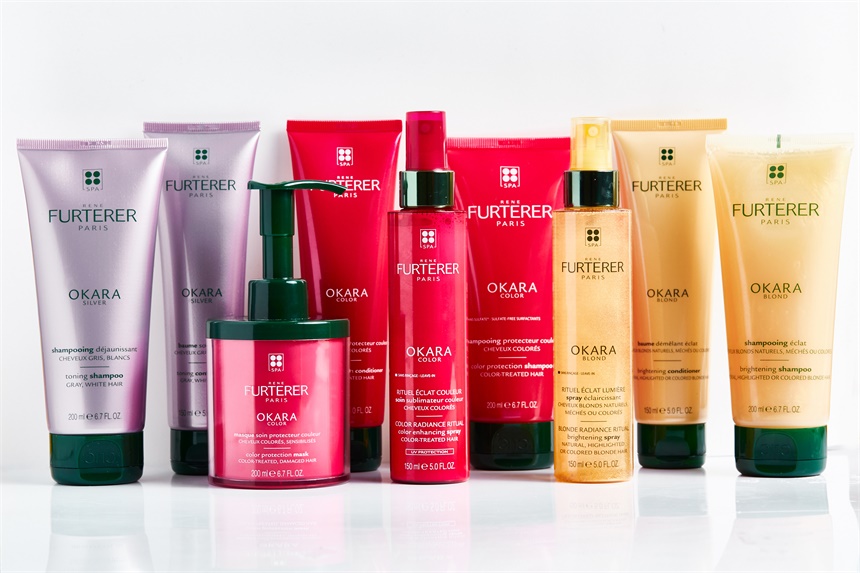 What are the 3 main things that colour clients want?: Colour longevity, intensity and radiance.  This is all possible due to its NATURAL OKARA EXTRACT (ie. soybean) and NATURAL WITCH-HAZEL EXTRACT.  The former repairs the hair and the latter allows the colour molecules to attach themselves to the keratin.  Furthermore, all the OKARA COLOR care line formulas have an ACID PH, which encourages the cuticle scales to lie smoothly,  therefore prevent fading and improve shine. The previous Okara Radiance line has now changed to a slightly more reddish-pink packaging with a more fruity-floral fragrance.  Absolutely wonderful!!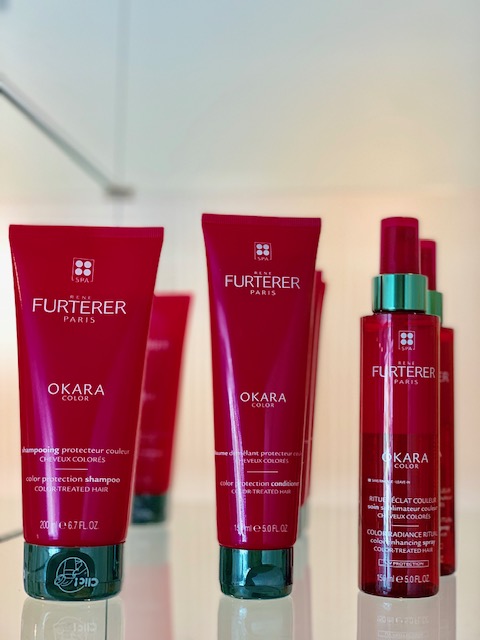 The new addition to the OKARA Colour line is the OKARA COLOR PROTECTION MASK.  It is used once or twice a week.  It prolongs the colour radiance for up to 8 weeks and has been proven to have 5x fewer broken hairs.  After shampooing, apply 3~5 pumps on the lengths or towel-dried hair.  Leave in for 2~5minutes.   Its innovative "Airless Pump" technology provides the right amount for each application and ensures freshness of the product.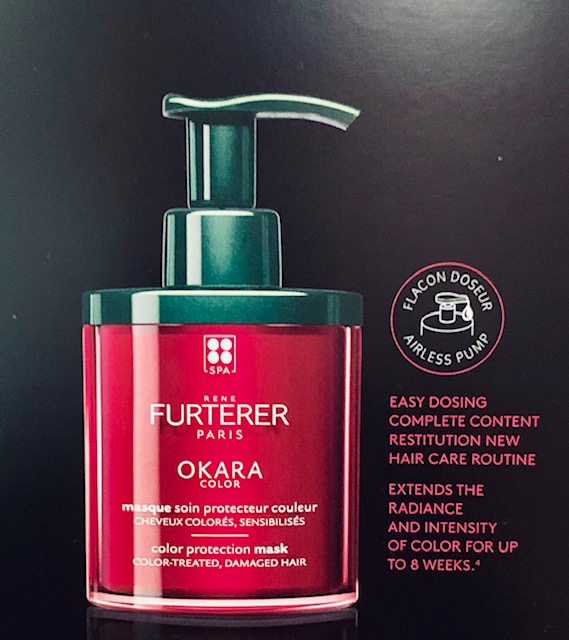 The new OKARA BLOND line has changed from being entirely honey based to honey combined with  LEMON ZEST EXTRACT and SUGAR CANE EXTRACT.  It still contains okara soybean extract for its repairing properties; however, in this case, the soya is combined with natural key ingredient REFLETLUMIÈRE to lighten and illuminate all blonde hair.  Previously, the honey in the formula left the blondes with more of a warmer golden tone; however, in this new formula, the lemon zest and sugar cane PROGRESSIVELY LIGHTEN hair for a natural sun-kissed effect.   Due to its citric acid content, it RESTORES SHINE and REVIVES BLOND RADIANCE.  You will notice that the shampoo has shimmer to it, almost like looking into liquid gold…
The new addition to the OKARA BLOND is the LEAVE-IN BRIGHTENING SPRAY.  This highly concentrated spray with Reflet Lumiere natural key ingredient will help the blond progressively become a shade lighter.  Make sure to shake well and spray all over dry or wet hair.  The tiny Mica particles give immediate shine and brilliance.  Gorgeous!!!…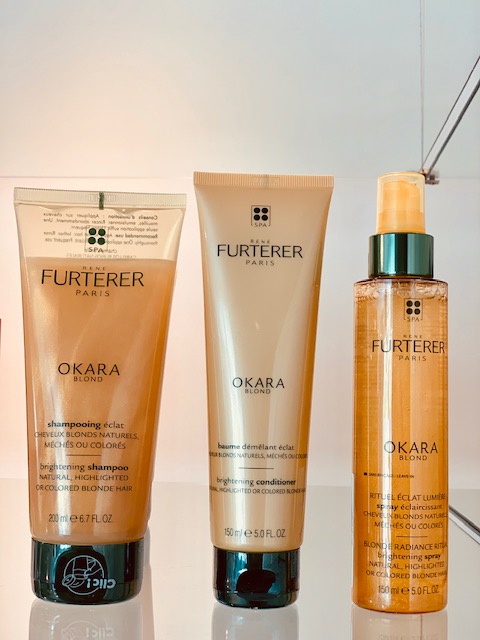 Finally, what I have been waiting for all these years:  The SILVER TONING CONDITIONER that pair with the OKARA SILVER Toning Shampoo.  With a delicious creamy gel texture, the OKARA SILVER CONDITIONER hydrates the hair fiber and neutralizes brassy yellow tones, therefore enhancing the cool tones.  Use a dab of on damp hair and leave in for about 2 minutes.  To be used only once or twice a week.  Unlike other Silver shampoos and conditioner, the Rene Furterer Silver line will not tint your hair blue/purple or leave your hair feeling dry.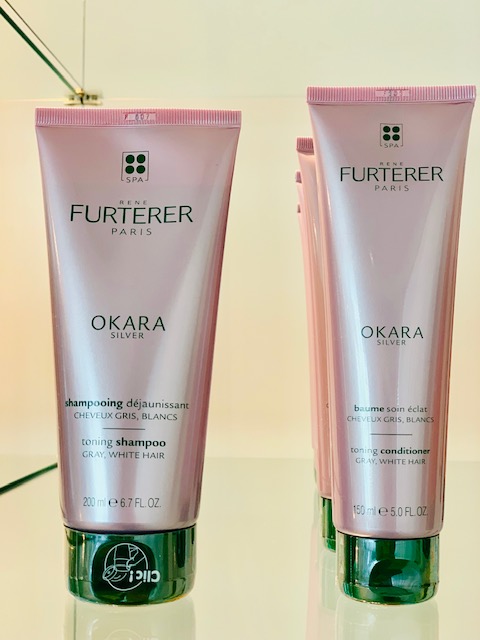 We have yet to carry Vitalfan; but all the other Rene Furterer scalp/hair care products are available at our salon.