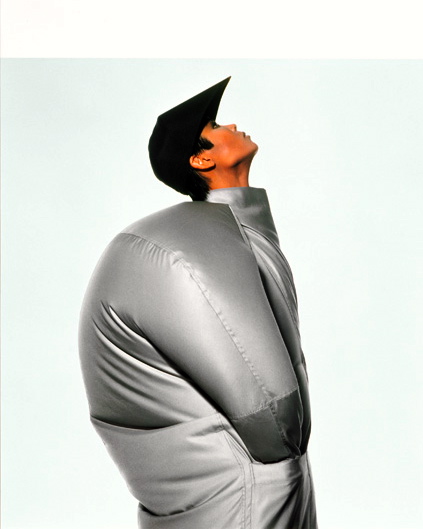 When it comes to fashion, are your clothes more important than your hair, or is your hair more important than what you wear?  OR…are they equally important?
At Yoko's, we see HAIR as "Wearable Art".  Hair is the material or fabric we work with.  And we care a lot about the 'quality' of that particular material because that will determine how the shape will look as a result.
Japanese clothing designer, Issey Miyake, did not see clothing as merely 'fashion' (ie. something that is transient) but "a form of design that is closely connected to our lives on a much more universal level".
While visiting Japan this April, I was once again lucky enough to catch the exhibition: The Work Of Miyake Issey, at The Tokyo National Art Center.  This exhibitions showcased  Miyake's life work during his 45 year career from 1970 to the present.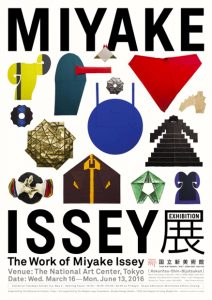 Constantly experimenting and pushing the limits with different forms of fabric and materials, he has been always exploring the relationship between this "piece of cloth" and the body, and the space that is created as a result.  It was highly inspirational and mind boggling to see what appears to be his never ending vision for the future of clothing.
The exhibition was a work of art itself.  As soon as I walked through the door, I was instantly transported into a quiet, yet colourful dream world of creativity: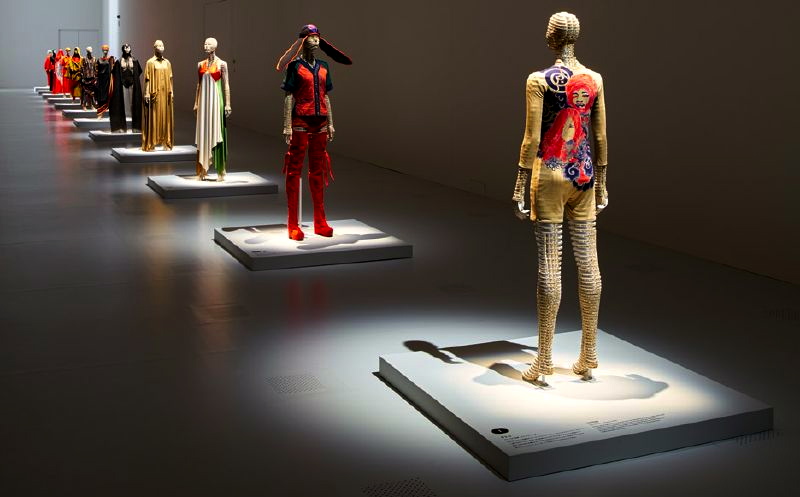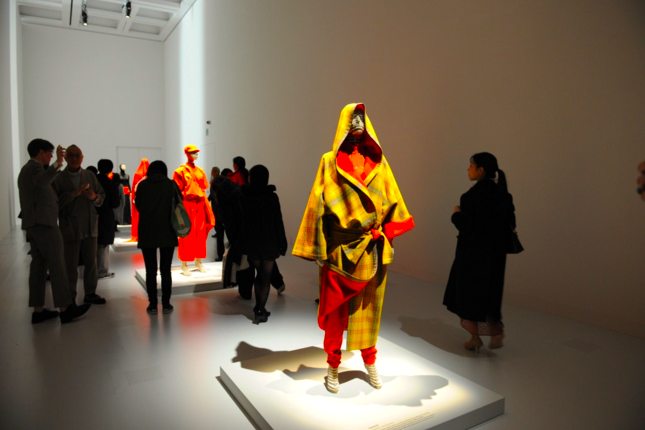 The exhibition consisted of 3 rooms.  The first room as you see in the shots above was long and narrow and had a  singular row of Miyake's earliest works dating back to the 70's.  The thick bulky coat you see in the picture above was inspired by the winter kimonos worn in the Japanese homes and inns during the 1600's ~ 1980's.
The second room brought me into an entirely white space bright with natural light.  One can see that the designer experimented with a wide range of materials.  In the 80's Miyake experimented with the "Plastic Body" which was reinforced plastic on a mould of human torso: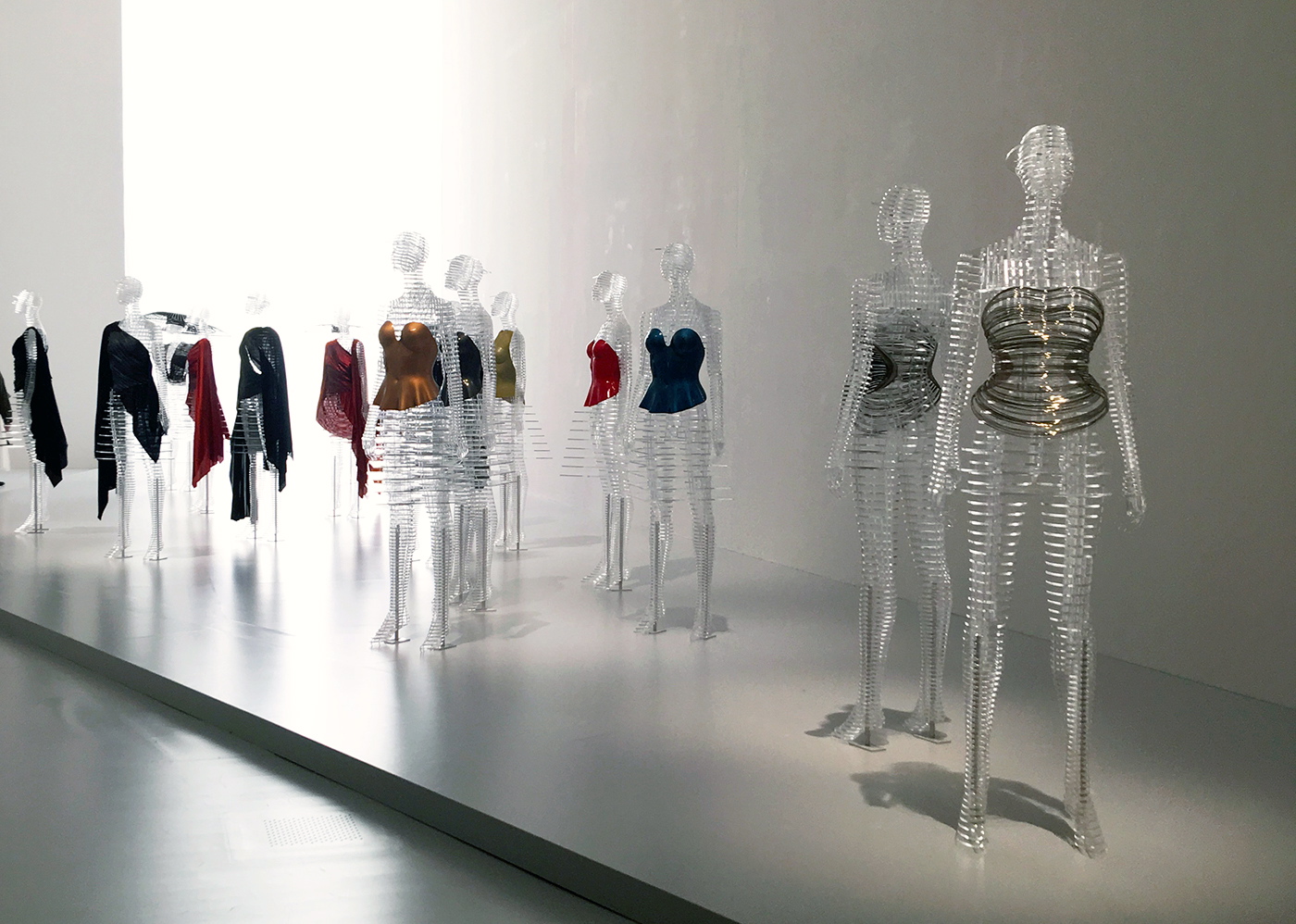 Below is the "Rattan Body" where rattan and bamboo are sculpted into wearable form: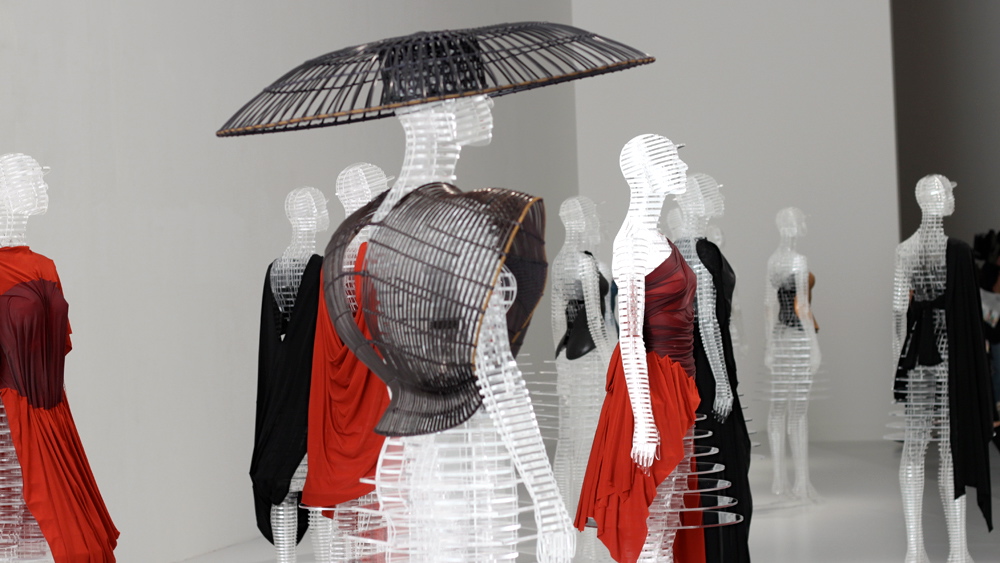 Check out this garment made of "horse hair" from his 1990 Fall Winter Collection: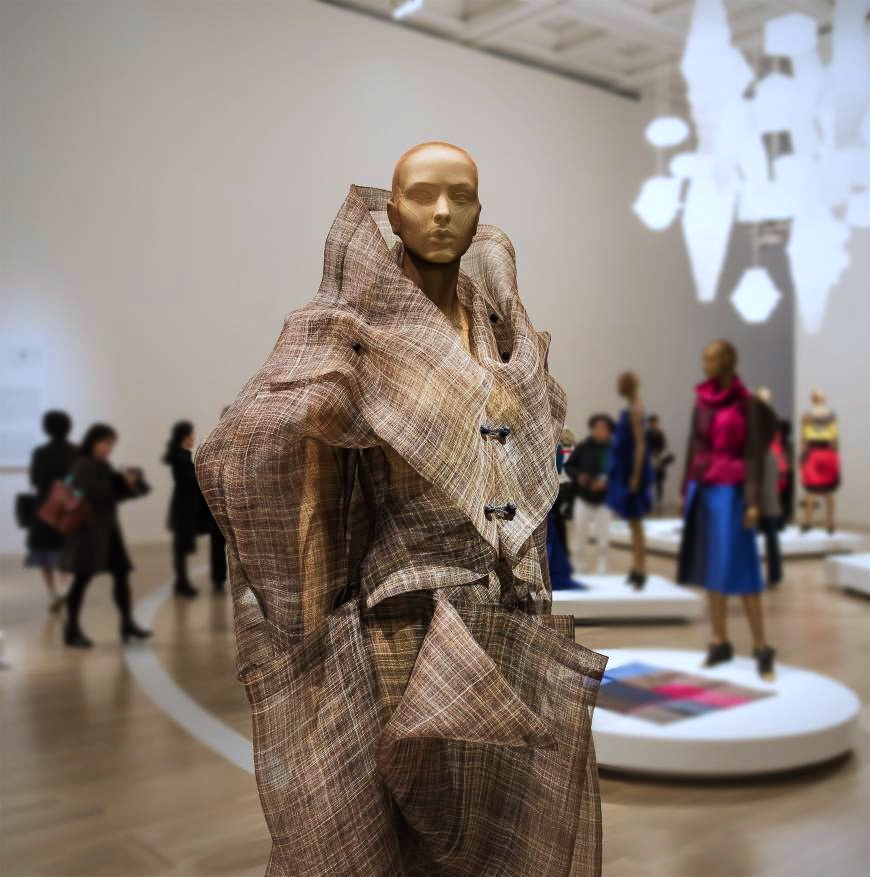 The third room was the grand finale, practically a spectacle itself!  The designer's archival designs and collaboration pieces were presented on separate islands positioned throughout the enormous hall. Not only were the clothing spectacular, the smaller details down to the accessories, such as the sunglasses that the mannequins were wearing were an absolute one-of-a-kind. (Where would you even get them if you wanted to purchase??…):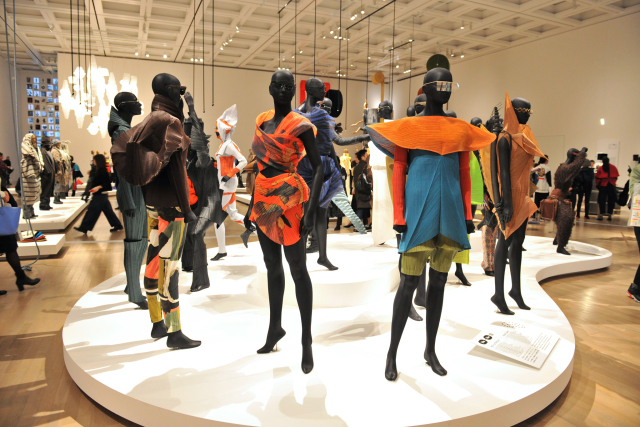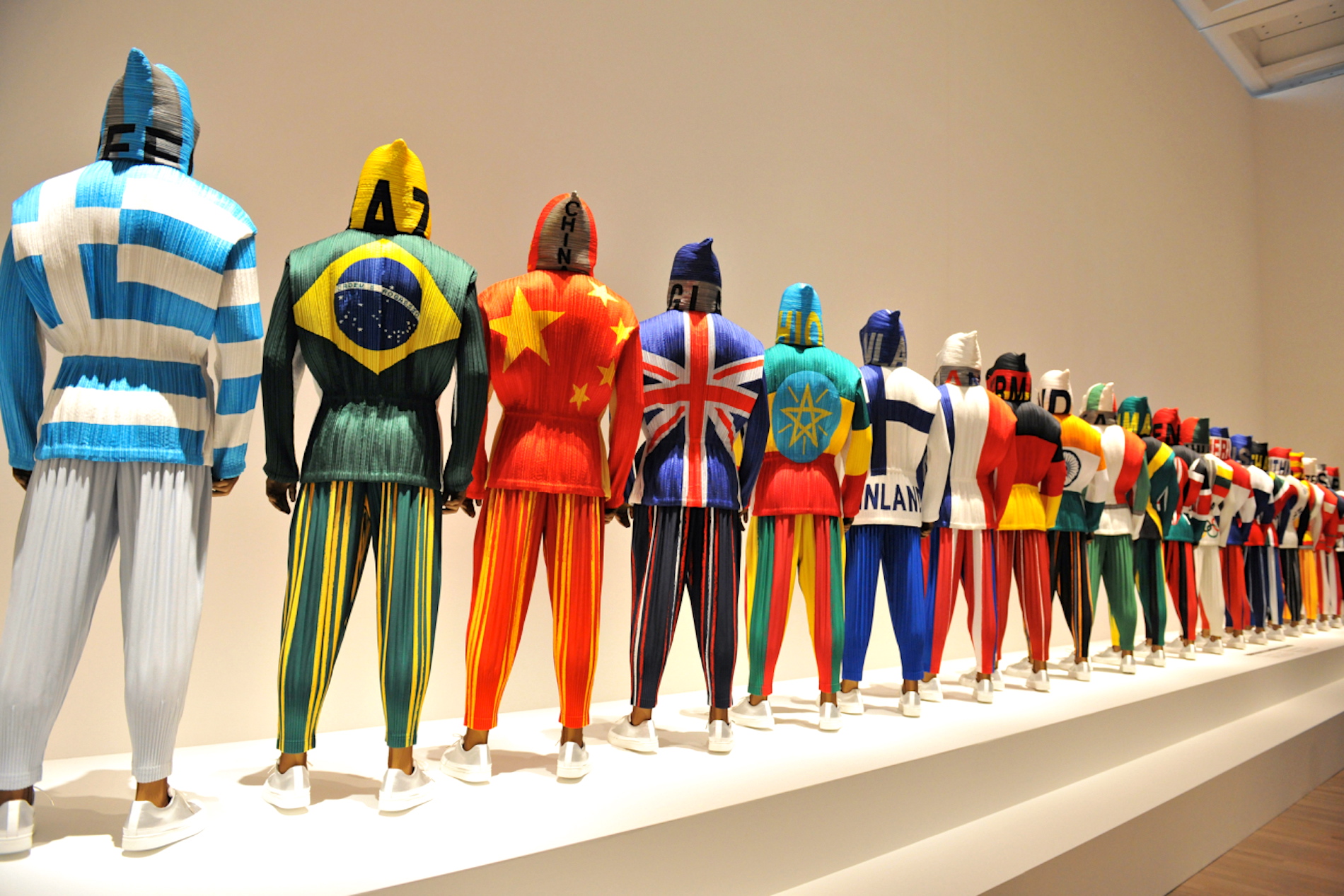 Many of you may be familiar with Miyake's pleated fabric.  The idea first came about back in the 90's when William Forsythe approached Miyake asking him to create clothing for his new production for the Frankfurt Ballet.  This is when he developed the idea of "garment pleating" to create pleated clothing using lightweight knitted material that moves.  These pleats, which eventually became his signature clothing design, were created by taking an oversized fabric cut and sewn into the shape of the garment and sandwiched between two layers of washi paper and fed through a heat press.  The pleats were permanently engrained into the fabric, therefore very easy to care for.
Another fascinating feature of Miyake's design was how he created clothing using the concept of "origami".  One moment you would see an intricate shape folded flat on the table.  The next moment, that shape would unfold into a 3D garment: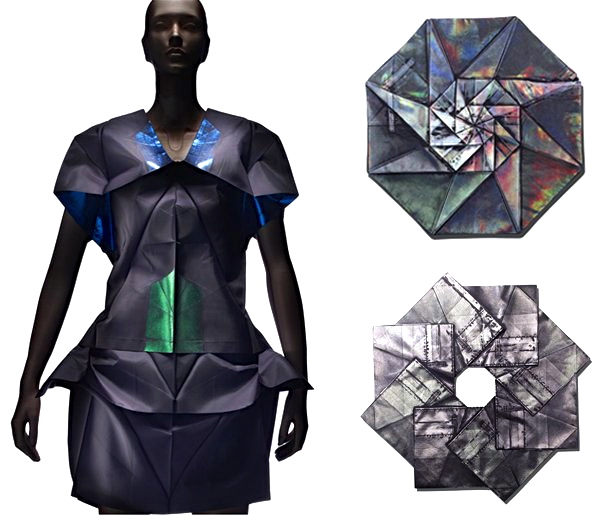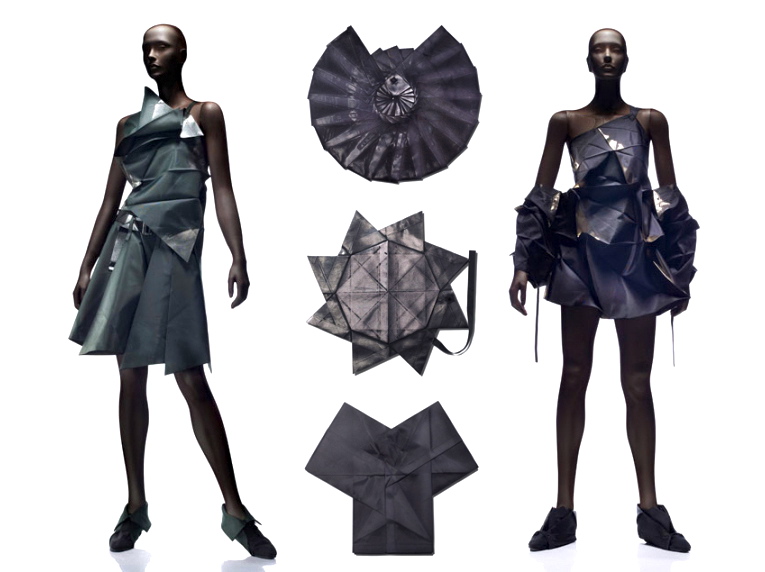 Apparently in a press conference, Miyake told reporters that he not only desired to carry on Japanese traditions, but to "go beyond global boundaries and not be limited by 'narrow frames'".  I greatly admire this man who continues to create, innovate and push the boundaries in his pursuit for an ever more advanced design of the 21st century.
This exhibition has truly inspired me.  It has reinvigorated my existing passion for hair and changed my approach to design and to life in general.  Let's try to cultivate our "thinking outside the box"!