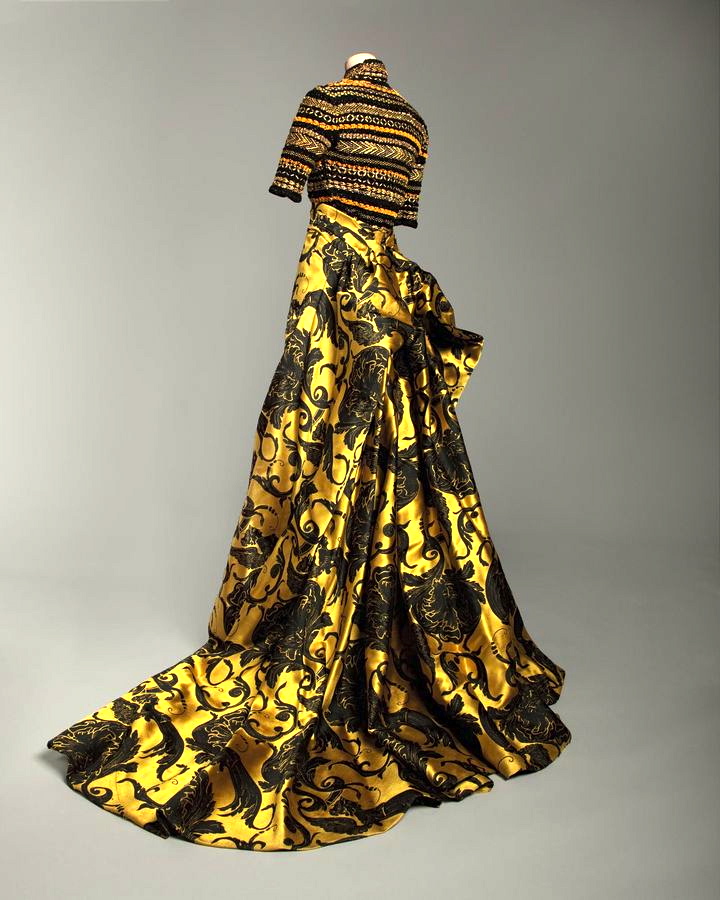 Hello Everyone!
While on my trip to Japan in April, I made sure not to miss any amazing fashion exhibitions, such as this one which took place at Mitsubishi Ichigokan Museum in Tokyo: "Paris Haute Couture — The Only Gown In The World". In case you were wondering, the evening dress in the picture above is from Christian Lacroix's 1991 FW collection.  The piece was considered very "modern" because of how it was put together:  A short sleeve knit shirt on top of a long silk organza skirt with large motifs.  So luxuriously fresh…
Although we all assume that "Haute Couture" is French, did you know that it was actually an Englishman living in Paris who planted the original seed?
It was in the 19th century that "Haute ('high') Couture ('fashion')" was produced only by leading fashion houses approved by the Chambre Syndicale de la Couture Parisienne.  These garments were created using top quality textiles and using the best seamsters.  However, it was the Englishman, Charles Frederick Worth, who established this association and was the first to present collections of clothing biannually, take custom orders and put signature labels on his garments.  Here he is and a couple of his pieces.  One of them having big influence from the Art Deco movement: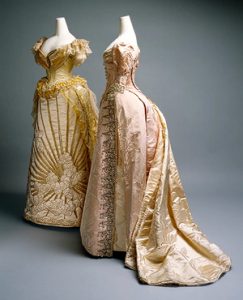 One of the features I really enjoyed about this exhibition other than the fact that I was drooling over some of the pieces designed by the most influential fashion houses, was clearly seeing and understanding the changes in fashion throughout the periods starting from the 1900's to the present.  One of a kind pieces designed by Christian Dior, Christian Lacroix, Chanel, Givenchy, Ballenciaga, Yves Saint Laurent, Jean Paul Gaultier were exhibited. Here are some shots which I took in one of the exhibition where cameras were allowed: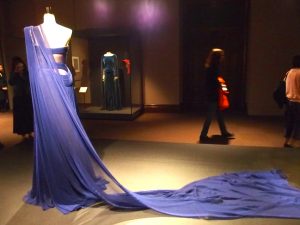 The key piece to the 1920's corset-free, high-waisted oriental garments was Madeleine Vionnet's light lime green silk muslin evening dress from 1924. The gradation of colours and the way the peacock layered train draped on the mannequin reminded me of some kind of floating fairy… It was stunning!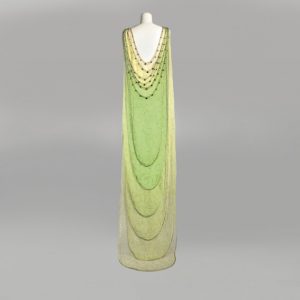 Check out this cool hand bag designed by Elsa Schiaparelli.  The outside is black leather.  But the inside is all 24 carat Gold with built-in lights (batteries included) on either side of the mirror. I always forget my little mirror when I am about to apply my lipstick…wouldn't mind having one of these bags…
Schiaparelli was a prominent figure in fashion between the two world wars and was the Italian rival of Coco Chanel.  Her pieces were quite avant-garde such as these black suede gloves with metal "claws" appliqués.  If you are a guy, you may not want to disappoint your date sporting these bad boys:
Here is Yves Saint Laurent's gorgeous black evening dress with an open back with silk chantilly lace from his 1970 FW collection: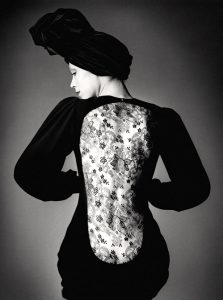 Christian Dior's intricately beaded silk cocktail dress – "Palmyre"- in his 1952 FW collection: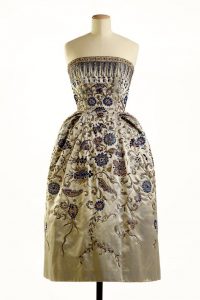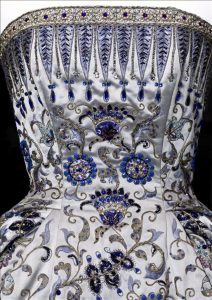 Finally, to end on a sweet fluffy note… Ballenciaga's evening dress from 1967 spring summer collection made of silk Abraham Gazar and ostrich feathers: